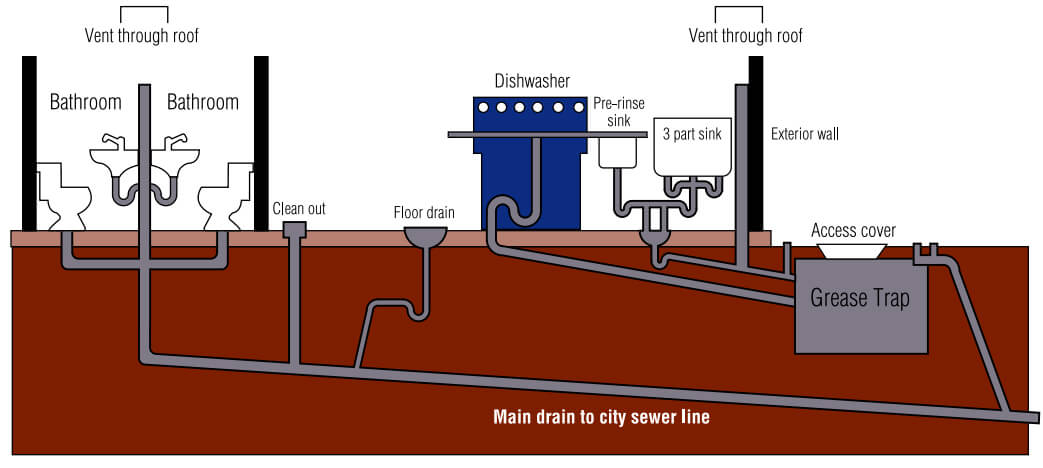 Above: Typical commercial drain system with grease trap. Alternative systems such as grinder pump, septic and step systems have different configurations than shown here!
Commercial Customers
Guaranteed Maintenance Program
Prevent disruption of your business
Skilled professional technicians
Latest in equipment technology
Cut Repair Cost
Extend the life of your system
Multiple services
Reduce Costs
Routine preventative maintenance keeps your system running clean. Repairs usually cost more than proper maintenance. A professional maintenance program means no unpleasant surprises.
Customized Maintenance Program
Our survey of your drain system includes cleaning the sewage line if necessary. We prepare a program tailored to your system's needs. We'll do the work when it's most convenient for you.
Avoid Hassles and Business Interruptions
No one likes dealing with wastewater drain problems, especially if they impact your customers.
Multiple Services
Our technicians have the latest in equipment technology and will solve problems from the drain to the septic tank or sewer.
No Extra Cost for Emergency Services
If you ever have a problem between scheduled maintenance services, we clean it free.
Residential Customers
Experience
We are knowledgeable and genuinely concerned with giving you real value for your money. We do only what is necessary and make sure you understand the problem.
Problems get solved fast
Our team comes when it is convenient for you. We get the job done quickly with minimal interruptions.
Our service people are thoroughly trained
We have the ability and equipment to handle any emergency efficiently.
We pump grease traps and septic tanks
We are the leaders in septic and grease trap pumping and have customers throughout Washington State.
Video pipe inspections
Video inspections alleviate the guesswork. We find the problem fast without digging or dismantling the system to discover the problems.
High-pressure water jetting
High-pressure water jetting safely blasts away grease, sludge, sand and debris. Your line is left clean, clear and free flowing.

Count on [company_name] to always be there!
Do you want to worry free, clean, clear drains?
Just give us a call anytime, 24 hours a day, 7 days a week, at [phone].