Service You Can Trust
At FloHawks Plumbing + Septic, we offer the best commercial plumbing services, with the highest quality maintenance and repairs.

We use the latest in technology, like the camera and video inspections, to ensure we accurately diagnose and resolve any issues you may be experiencing. Our dedication to being thorough and professional has given us the reputation of being the commercial plumbing company of choice for Puyallup, WA. Proudly serving the South Hill, Pudget Sound, and South Sound areas, FloHawks Plumbing + Septic also donates to the United Way giving program! All of our plumbers are fully trained, licensed, bonded, and insured, and we know you'll love our service. For any commercial plumbing needs, you can trust FloHawks Plumbing + Septic!
Commercial Plumbing Services We Offer:

Drain Field Services
Camera & Video Inspections
Industrial Pumping (Digesters, Clarifiers, Sewage Lagoon, Manure Pits, Bar Screen Pits, Dairy Fars, Pulp and Paper Mills, and Wastewater Treatment Plants)

Grease Traps
Floor Drains
Sewer Services
Hydrojetting
Catch Basins
Top-Rated Commercial Plumbing Repair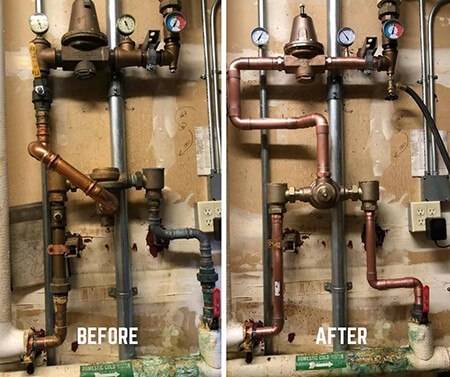 Don't let clogged pipes or leaks slow down your business, let FloHawks Plumbing + Septic help! We offer 24/7 emergency services and work efficiently to resolve problems, knowing that your time is valuable. If you're experiencing clogged drains, hearing unusual noises, or have unpleasant smells emitting from drains, you may need repairs. Our experienced plumbers use the latest and more effective techniques to identify and resolve the issues, fixing the problem quickly and providing you with valuable feedback on the service provided and other recommended action. That's why our clients trust us as their plumbing company time and time again!
Top 4 Most Common Grease Trap Issues:
Unpleasant Smells
Incoming or Outgoing Line Clogging
Commercial Plumbing Services Puyallup, WA Depends On You care about your business, and so do we! FloHawks Plumbing + Septic knows that a clean, welcoming environment means good business, and we make ourselves available 24/7 so no matter when you need service, we can help! If you're experiencing a smelly grease trap, or slow-draining sinks or other devices, you can't afford to ignore it. We understand the importance of fixing the problem fast, and work hard to quickly identify and resolve the issue. Plus, we offer preventative care treatments, so you can rest easy knowing that all of your plumbing equipment is safe and ready to use!
FloHawks Plumbing + Septic knows you depend on professional, quality service, just like your customers depend on you!

For any and all plumbing services, give us a call today!