Our satisfied commercial customers offer a diverse mix of products and services to the residents of Washington State, and they impact their communities in the same way:

they provide jobs, goods, and services that enrich lives.

One type of commercial customer, in particular, depends on specific areas of expertise that only FloHawks Plumbing + Septic can offer: the restaurateurs and foodservice kitchens of Washington State. These companies rely on FloHawks Plumbing + Septic to provide quality and efficient work, state-of-the-art equipment, and fast response.
Plumbing Services for Restaurants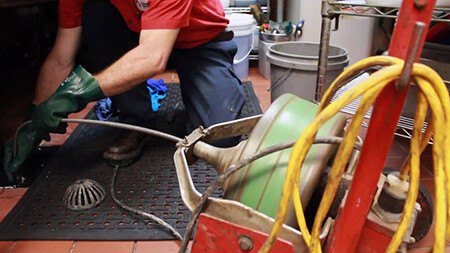 Successful restaurants rely on a wide variety of resources to provide great food and a welcoming atmosphere for their patrons. After all, patrons often choose restaurants to spend time with family and celebrate important life events. In turn, these businesses rely on their resources to keep everything running smoothly, and turn to FloHawks Plumbing + Septic for our expert plumbing, septic, and grease trap services.
Grease Trap Cleaning
Grease interceptors, also known as grease traps, are very similar to septic tanks found in homes. Water that enters drains in fixtures like dishwashers, floor drains, and kitchen and bathroom sinks all lead to your grease trap, where a baffle then separates the material that enters. Like scum in a septic tank, grease that enters the trap will settle at the top, while food scraps and other solids will settle at the bottom.
These systems work great to keep water flowing through the building while keeping grease and other solid wastes out of the disposal lines. It's every businesses responsibility to ensure that they do their part to maintain and clean their traps. An overflow of grease from a grease trap could clog sewer lines and cause blockages, which can cause unsanitary water to back up into surrounding homes, businesses, and streets.
The FloHawks Plumbing + Septic Experience Our technicians know how busy managing a restaurant or foodservice establishment can be. The routine grease trap cleaning is all too easy to forget. Luckily, we're available to clean and empty your grease trap 24 hours a day, 7 days a week. Whether you're in the middle of a dinner rush or opening for breakfast, you can call FloHawks Plumbing + Septic for service at any time; we are available 24 hours a day, 7 days a week including nights, weekends, holidays and for emergencies.

To speak to a technician, call (253) 499-8855 or use our handy Schedule Your Service tool to book an appointment online.