Puyallup Septic Tank Inspections

Regular inspections will determine if your septic system is in proper work order or not.
They are one of the best ways to significantly prolong the life of your septic wastewater system and can save you a lot of money down the road. Failing septic systems are expensive to repair or replace, and poor maintenance is the leading culprit. An unusable or failing septic system will lower your property value and could pose a legal liability.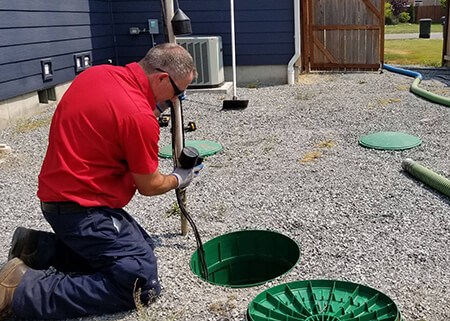 Inspecting the Tank
As part of your regular septic system maintenance program, FloHawks recommends that a trained professional complete a thorough inspection of the entire septic system at least once per year. First, the inspector will locate the septic system and its components. This will be helpful if you aren't already familiar with your system's layout. The inspector will uncover the tank's cover and inspection ports. They will also check connections to ensure that your household plumbing is all going to the system and working correctly.
Most importantly, the inspector will verify how full the tank is and measure the levels of scum and sludge in your tank so you can get a more accurate idea of how often it should be pumped. The inspector will check the condition of the baffles or tees, the walls of the tank for cracks, and other parts of the system. Remember that toxic gases produced inside the tank can be very dangerous. Be safe and leave the inspections to the trained professionals.
Inspecting the System
Regular inspections can reveal problems before they become serious. In addition to inspecting the tank, our FloHawks technician will check out the drain field for any signs of failure. Our skilled professionals have the trained eye to identify the most telling signs of septic system failure. They will check for any pooling water or muddy soil around your septic system or in your basement. They will ask you whether your toilet or sink backs up when you flush or do laundry. You might also notice strips of bright green grass over the drain field, which can also be indicative of septic system failure.
It is very important to keep a detailed record of all inspections, pumpings, permits, repairs, and any other maintenance to your system along with a sketch of where your septic system is located. Having this information for future service visits can save you both time and money.
FAQs
How often should my septic tank system be inspected?

The State of Washington requires that a gravity system be inspected every 3 years. Any alternative system should be inspected annually (or per manufacturer recommendations). Your county may have individual regulations that could be more stringent. If you are unsure what type of system you have, or what your county regulations require please call us at 1-800-356-4295. We are very familiar with all types of regulations throughout the Puget Sound area and will help you cut through any red tape.

What should I expect when I have my septic tank inspected?

Generally it will depend on the type of system that you have. If you tank is accessible and uncovered then an inspection can be relatively straightforward and should take no more than 30 minutes. If you system has multiple tanks, an inaccessible or uncovered tank, electrical components and/or an alternative system then the inspection process may be more involved. Inspections of an alternative system follow manufacturer recommendations and could take an hour to 1.5 hours. Once the tank is located and uncovered, the FloHawks technician will look at the solids build up in the tank and see how much is in there. What are the liquid levels? Are they are at normal levels (too high or too low is not good.)? Are the baffles (where the liquid comes in/goes out) intact? Are they working properly? While they are there, a technician may clear a baffle or screen and inspect the drainfield area for odors, wet spots, or surfacing sewage, which are all potential signs of an improperly functioning drain field.

How much does an inspection cost?

In general, an inspection for most of our residential customers ranges from $150 to $300, depending on accessibility and availability. All pricings are estimates only and do not include any county or state fees or taxes.

Call us anytime or use our convenient Schedule Your Service tool, which allows you to set an appointment that best fits your schedule!