Sewer Repair Gig Harbor Trusts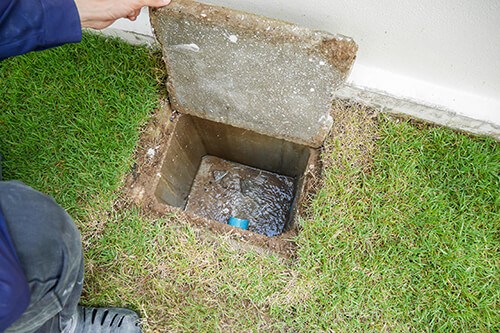 Since 1968, FloHawks Plumbing + Septic has been helping the residents of Gig Harbor, WA, maintain their drains. You can count on our professionals for competent sewer cleaning and repair service to keep your pipes flowing. Though we're backed by decades of experience, we also know the importance of staying up to date with technology.
That's why we use techniques like video snaking and hydro-jetting to get the job done. Our business is your one-stop shop for all your sewage system needs.
Some reasons we stand out:

Fully licensed and insured
Top-rated customer service
Experienced septic specialists

Honest, up-front pricing estimates
Five decades of outstanding results
Availability 24/7 for emergency repairs
Keeping Gig Harbor Sewage Systems Functional
The sewage system in your home handles all your wastewater. If you get a blockage or a break, you can end up with some very nasty leaks. Sewage lines can potentially be clogged by various things, including paper products, grease and tree roots. Over time, the pressure created by such an obstruction can cause the lines to burst. Whatever the reason for your problem, FloHawks Plumbing + Septic is ready to assist with sewer repair in Gig Harbor. If you have an emergency that occurs at night or on the weekend, you can call us at any time. Our crew can quickly diagnose the problem with your sewage system and offer the best solution.
Septic System Experts Serving You
Sewer problems can quickly turn into plumbing disasters, so it's important to keep an eye out for any warning signs. Blockages should be cleaned out before it's too late. Typically, a slow septic system will still drain eventually, but it will not be functioning at optimal efficiency.
Some of the symptoms include: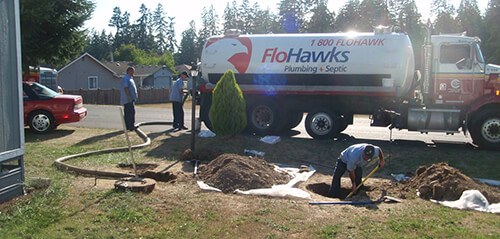 Drains that move too slowly
Water backing up in lower drains
Soggy spots in the yard
Weird smells indoors or outside
Bubbling drains
Unusually high water bills
Gurgling noises coming from pipes
We definitely excel at sewer cleaning and sewer repair, but those aren't the only services we provide. You can also rely on us to handle the full range of your plumbing needs. We can inspect, install or repair your pipes, fixtures, hot water heater or other plumbing components. The professionals from FloHawks Plumbing + Septic will give your assignment in Gig Harbor conscientious attention and care.

Call us today to discuss your plumbing/septic concerns or schedule an appointment.