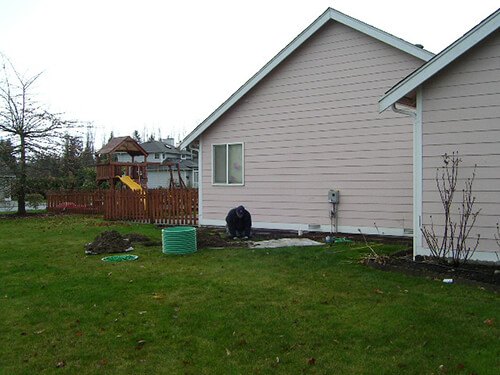 The average home with two baths and three occupants will produce 250 to 300 gallons of wastewater per day! That is a lot of flow for your on-site septic system to handle. Pumping your septic tank is the most important aspect of maintaining your septic system. A neglected system can quickly become a neighborhood health hazard and an expensive problem. Just how you would regularly service your car and get the oil changed every few thousand miles, you should regularly clean your septic tank after a few thousand flushes. If not, your septic tank, just like your car, may fail sooner without regular maintenance.
Q: Why Should I Have My Septic Tank Cleaned?
A: Proper care of your septic tank extends the life of your on-site sewage system and saves you money on costly repairs or replacements. It also protects your family's health and the quality of your community's water resources. Also, law requires it for most homeowners. Failed systems may result in costly property damage and decline of your property value. When the time comes to sell your property, it will be critical that your septic system has been maintained properly and that it is working properly. Proper operation and maintenance of your septic system can have a significant impact on how well it works and how long it lasts.
Q: How Often Do I Need To Pump My Septic Tank?
A: The answer depends on how much you properly care for as well as use your system. For an average family of four, we typically recommend pumping every 3 to 5 years. The short answer is you should pump your tank whenever it needs it (i.e., when the sludge and scum levels reach 30% of the tank's capacity). Pumping frequency depends on many different factors including the size of the septic tank, household practices, and water usage. Since there is so much variability in these factors, regular inspection is recommended to determine the condition of your septic system. Contact us today to help to determine when pumping is needed for your system. FloHawks can help you with a personalized maintenance program.
Q: When You Pump My Tank, Will You Make A Mess Of My Yard?
A: No. Our trucks are equipped with a couple hundred feet of hose so that we can pump your tank from the driveway or side of the road. When we dig up the cover to your tank we will put the grass off to the side and then put the dirt in a separate pile. When we are done, we will carefully replace the dirt with the sod back on top.
Q: How Much Does Septic Tank Pumping Cost?
A: It depends. Not every septic tank or system is the same so there is a great deal of variability. Generally, it will depend on how many tanks you have, where your system is located, and how accessible it is. Call us at 1-800-FloHawks or contact us today for a free quote. In just a few minutes we can ask you a couple of questions and provide you with a quote right over the phone. We offer flat rate pricing for residential services. Some questions that we will ask to determine the costs are:
Do you know where you tank is located or have an as-built of the system?
Is it accessible (i.e., located and uncovered)?
How many tanks are there?
Where are they?
Has the system been remodeled?
When is the last time it was serviced?
Plan ahead! Call to get your tank pumped before family reunions, weddings, and other special occasions to ensure that the system performs at its peak for you and your guests. Remember: You can never get your septic tank pumped too often. Many people do not get it pumped frequently enough.
For nearly 40 years, FloHawks has been a leader in the plumbing and septic industries and regularly trucks more than a million gallons of waste a month. Headquartered in the Puget Sound area, we proudly service commercial and industrial customers in King, Pierce, Kitsap, Thurston, and Mason counties. Our specialty is anything that involves septic or water going in or out of a home or business. Our trained professionals are fully licensed, bonded, and insured. Please contact us online or call us at 800-444-2371. Your doody is our duty!